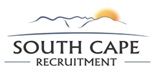 Salary:

Market Related

Job Type: Permanent

Sectors: Hospitality

Reference: CAW000364/CH
External Application
---
Vacancy Details
Employer: South Cape Recruitment (Pty) Ltd
Head ChefThe Head Chef is responsible for developing, implementing and monitoring the annual plans for Kitchen and Stewarding operations. This includes assisting with developing and proposing the supporting budgets, manning needs and CAPEX/OPEX requirements. The Head Chef works closely with the senior management team to ensure the Kitchen and Stewarding operations are aligned and support the wider objectives of the organisation. The role creates the systems and conditions that enable the kitchen and stewarding teams to provide guests with outstanding food products that are professionally presented and of exceptional quality, nutrition, taste, food safety, culturally sensitive and responsive to individual needs. The Head Chef is actively involved in attracting, selecting, training, developing and coaching the Kitchen and Stewarding teams.The Head Chef actively stays up to date with developing practices in food production and hygiene, including new machinery and equipment to improve storage, food production, transportation and presentation of food and servicesThinking AbilityAbility to develop strategic direction for the kitchen and stewarding function to support organizational aimsAbility to influence leadership and management teamsAbility to implement change and support people through times of transitionAbility to develop innovative and creative food productsAbility to oversee and simultaneously pay attention to a number of demandsProven ability to lead multiple teamsHigh levels of verbal and numerical ability Ability to correctly communicate detailed information and instruction to others
Academic Qualifications and Background
A formal management qualification
Bachelor degree and/or diploma in Culinary Arts
Languages
Ability to effectively communicate with others in English, in written and verbal form.
Work Experience
8 Years' experience in a culinary leadership role
Demonstrated extensive previous experience in a luxury hotel, cruise or private residence environment
Job Technical Skills
Ability to lead kitchen and stewarding teams
Experienced in overseeing and directing multiple teams
Experienced in selecting, motivating and guiding culinary management and operations team members
Experienced in preparing annual plans including budgets and monitoring financial performance
Competent in developing and ensuring policies, processes and standards are implemented and applied across the kitchen and stewarding functions
Ability to analyze and improve kitchen and stewarding operational effectiveness and efficiencies
Ability to monitor and ensure compliance with health, safety, security and other legal requirements across kitchen and stewarding operations
Proficiency in MS Office Suite Applications
Personal Qualities
Committed to creating an environment where kitchen and stewarding teams are able to provide exceptional levels of service to others
Ability to influence others to adopt a collaborative working style and teamwork across departments and functions
Demonstrated ability to be flexible, adjust and adapt to changing circumstances in a fast paced and deadline driven service environment
Ability to work under pressure and deliver results, even when urgent and deadlines are short
Emotionally stable, even tempered and calm when faced with challenges
Demonstrated ability to work cooperatively as a member of a team
Demonstrates exceptional levels of integrity
Ability to work independently without receiving detailed instructions
Business Values
Embraces, supports and models organizational values and culture
Physical Abilities
Ability to work for extended hours with at times limited periods of rest
---
151 people have viewed this job.
About South Cape Recruitment (Pty) Ltd
We are a generalist recruitment company based in the heart of the Garden Route in the Southern Cape. Customer service is an integral part of our job and not an extension of it!
Our company's most vital asset is its customers. Without them we would not and could not exist in business. We pride ourselves on our ethics and professional manner in which we conduct our business.
South Cape Recruitment is a personalized agency based in George in the Southern Cape. @ SCR we strive to give consistently professional and tailored service. We are a generalist Recruitment company with talented consultants who are committed to both clients and applicants.
Yvette Meyer together with her team have a range of expertise from hospitality, tourism, building, motor industry, sales & marketing, finance & administration to mention a few, thus allowing us to have a better understanding of your requirements and skills within these various sectors.
Our business philosophy is to create "WOW" moments for customers by going above and beyond their expectations.
Through our recruitment process we are able to ensure clients receive great value for money and assist with the modelling of applicant's careers.
Similar Jobs
Head Chef
Franschhoek
Job Type: Permanent
Posted 29 Aug 2023 | 33 Days left
Restaurant Staff
Franschhoek
Job Type: Permanent
Posted 02 Aug 2023 | 6 Days left
More Jobs at South Cape Recruitment (Pty) Ltd
Head Chef
Garden Route
Job Type: Permanent
Posted 21 Sep 2023 | 35 Days left