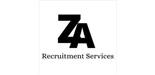 External Application
---
Vacancy Details
Employer: Z&A Recruitment Services
Our client has vacancies available for call center agents to join their inbound team. Full training and induction will be provided so first-time job seekers eager to get some experience in call centers and customer service are encouraged to apply.
Duties & Responsibilities:
Aiming to achieve first call resolution of client queries, Maintaining the goodwill of the company by upholding the SLA standards, Investigating queries where necessary and providing timeous feedback to members, Interpreting queries and determining appropriate path for resolution, escalating queries where necessary to ensure member satisfaction, accurate logging of information for statistical reporting purposes
---
Candidate Requirements
Requirements:
Must be dynamic, confident, very clear and well-spoken as well as target and results-driven, Must be able to handle pressure, and be able to communicate to people on any level. Must be organised and efficient. Must be able to handle complaints and queries professionally and pass them on accurately and timeously to the relevant department, Must be well organised and efficient,
School leavers encouraged to apply.
Competitive basic salary plus excellent benefits and incentives.
Whilst we really do appreciate all applications, only short-listed candidates will be contacted.If you don't hear back from us within 14 days from your application please consider your application unsuccessful.
---
867 people have viewed this job.
About Z&A Recruitment Services
Z&A Recruitment offers specialised recruitment services spanning across a range of industries with a culture that is focused on exceptional customer service. It's driven by our team of professionals, who contribute to the customer journey which ensures that they return time and time again. We only employ the highest caliber of recruiters that take care of and nurture our customers' needs, creating long lasting partnerships.
We're industry specialists
Our leadership team has an average of over 15 years of industry experience, and we employ specialist consultants who are experts in their industries, so they understand the skills and experience you're looking for.
We're nationally connected
We have a strong understanding of markets on a local, national, and global level. Over the years we have built many long-standing relationships with our clients. We have remote agents working in all major cities within South Africa.
We're passionate about your progress
Whether you're a candidate or a client, our relationship doesn't end when a job opening has been filled. We stay in touch to ensure employers and employees alike are set up for long-term success.
We're trusted
Over 90% of our current business comes from personal referrals and repeat clients, which goes to show we're committed to building long-standing partnerships and providing quality service.
We know the South African job market inside and out
Our recruitment specialists are always on hand to offer expert insights into updates and trends within your sector.
Z&A Recruitment offers specialised recruitment solutions to connect employers with skilled staff. If you are struggling to find qualified staff, we offer efficient, straightforward solutions.
More Jobs at Z&A Recruitment Services