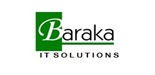 ---
Vacancy Details
Employer: Baraka IT Solutions (Pty) Ltd
Infrastructure Server Engineer
Network & Infrastructure Management Services
· Monitor the effectiveness of installations and ensures that appropriate recommendations for change are made.
· Provide technical expertise to enable the correct application of operational procedures.
· Use infrastructure management tools to determine load and performance statistics.
· Contribute to the planning and implementation of maintenance and installation work, including building and configuration of infrastructure components in virtualised environments.
· Implement agreed infrastructure changes and maintenance routines.
· Configure tools to automate the provisioning, testing and deployment of new and changed infrastructure.
· Identify operational problems and contributes to their resolution, checking that they are managed in accordance with agreed standards and procedures.
· Maintain the network support process and checks that all requests for support are dealt with according to agreed procedures.
· Make a significant contribution to the investigation, diagnosis and resolution of network problems.
· Ensure that all requests for support are dealt with according to set standards and procedures.
· Provide reports and proposals for improvement, to specialists, users and managers
---
Required Skills
vmware : 8 to 9 years
hyperv : 8 to 9 years
server+ : 8 to 9 years
---
Candidate Requirements
To configure and managing servers of different operation system such as Windows, Linux
Installing and fixing issues, and upgrading while implementing enhancement to servers to improve performance and reliability
To design, implement , and manage enterprise system technologies
To support technologies such as Active Directory , Hyper V, internet and file server migration
Should be familiar with Cloud Solutions, virtualisation software such as VMware and Hyper-V.
To provide support for implementation, maintenance and troubleshooting of IT systems.

Bachelor's degree in Computer

Science Engineering or a related discipline
National Diploma in IT or equivalent
Relevant Certification
---
12 people have applied for this job. 1179 people have viewed this job.
About Baraka IT Solutions (Pty) Ltd
Baraka Technology Solutions (Pty) Ltd is a division of Baraka Technology Group, and offers a range of computer systems, as well as specialized infrastructure management services according to ITIL/IT Service Management standards.
Baraka was formed at the start of 2003, and has since grown into a respected brand in the South African ICT marketplace. We pride ourselves of being a truly representative South African company, with a balanced demographic profile, and striving to be an equal opportunity employer at all times, whilst being committed to empowering our people and our communities. We think that Baraka is a model BEE company as defined in the South African context.
The company's operations are distributed across the provinces of South Africa, with major operations in Johannesburg, Cape Town, and Port Elizabeth. Our new offices in Durban and Gaborone are set to grow over the next few months.
The management and staff of the company bring unmatched business and technical expertise to benefit our customers across the different solutions we offer in the market place. Baraka is becoming an employer of choice in areas such as mission-critical business applications and enterprise infrastructure solutions
More Jobs at Baraka IT Solutions (Pty) Ltd