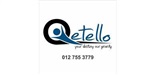 ---
Vacancy Details
Employer: Qetello Holdings CC
We have a position available for a Recruitment Consultant to join our team in Pretoria (Moot Area).
The potential candidate needs to understand and match the needs of our clients and candidates to provide quality tailored recruitment services whilst continually meeting target.
Sales Activities
New business generation - Make canvass calls and carry out mail shot activities
Meet sales/gross profit targets in line with dashboard
Deal with speculative calls, aftercare and service calls
Client visits – new and service – identify and follow up business leads
Write proposal documents and tenders, negotiate fees and rates in line with Co policy and comply with approvals and discounts allowed and Issue Terms of Business
Write and place advertisements in newspapers and on website and keep in contact with job centres and colleges
Client Management
Serve clients, identify their needs and provide feedback on success of filling jobs
Qualify job specification / salary information and record accurate and comprehensive job description – check info / client requirements in line with key processes and legislation
Gather info on client – decision maker and no. of employees
Network internally and externally with clients
Benchmark for clients – salary, availability, candidate pool, industry activity
Write and Place advertisements in newspapers and on website
Candidate Management
Candidate control – keep in regular contact to review progress and performance
Pre-screen candidates before their interview for suitability and conduct interviews
Coach candidates on interview skills / Skills testing
Manage Temp availability to meet client needs
Spec CVs / Market candidates, Search / Shortlist CVs in line with job order request, Ensure CVs are of a specific standard and reflective of client requests
Provide information to candidates on clients and job specifications for permanent jobs
Other
Administration duties including; identification and national insurance checks, verification of qualifications, obtaining bank details, dealing with timesheets, payroll queries and amendments, tracking credit checks, raise permanent invoices and reference checking
Capture info / calls / bookings correctly – update and maintain client and candidate information database and adhere to rules as well as daily back-up of the system
Ensure records are kept in line with legislative requirements
Carry out work instructions in line with Key Processes
---
Required Skills
new business development : 2 to 3 years
recruitment : 1 to 2 years
interview : 1 year or less
---
Candidate Requirements
Matric
Diploma / Degree is an added advantage
Min 1 Years recruitment experience in an agency environment
Motivated and driven
Fluent in English
Go-getter and target driven
Achieving monthly targets
---
Hot Job
112 people have applied for this job. 1444 people have viewed this job.
About Qetello Holdings CC
Qetello Holdings is a recruitment and human resource company based in Pretoria. Our diversified client base includes major corporations as well as small, emerging businesses. We provide recruitment and human resource advice and assistance in areas such as engineering and technical, information technology, manufacturing and distributions, pharmaceutical / healthcare, accounting and finance, general management, sales, marketing and general administration.
WHAT SETS US APART
We tailor our services for employers, keeping abreast of rapidly changing job market trends. We are dedicated professionals with strong corporate experience. As a small private firm, Qetello offer a critical advantage through:
"Hands-on" involvement by the managing partner Working with fewer clients by design Flexibility and resourcefulness. Having a database of qualified diversity sources Responsiveness to your recruiting, human resource and industrial relations needs
Recruitment service offered:
Pitfalls around employment policies are great and appointing the wrong applicant can be an expensive exercise. Qetello will assist you to acquire and appoint the right person into the right job.
Applicants are sourced from an in-house database, the internet, printed media, and from a national network. We recruit permanent staff on all levels, ranging from senior management to entry level. Qetello use recruitment techniques, which grant all applicants equal chances to apply for a specific position.
In terms of fees the range is between 8% and 15% of TAR (total annual remuneration package of the candidate) for placements. In order to determine where the rate should fall for each client, we need to assess the needs and range of services required.
Qetello candidates use only those tests which do not discriminate on the basis of culture, race or gender
More Jobs at Qetello Holdings CC