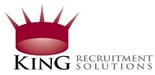 Salary:

Market Related

Job Type: Permanent

Sectors: Sales

Reference: PE000598/LB
Partner Ad
External Application
---
Vacancy Details
Employer: King Recruitment Solutions
Our client is seeking a Sales Representative for the East London Branch. The purpose of the position is to ensure achievement of business objectives, managing and expanding existing client base, cold calling, setting and achieving sales targets and revenue growth generated through personal performance, ensure that best management practices are followed in all areas of responsibility regarding equipment sales procedures and actions, ensuring a customer-oriented service and to implement and uphold actions in line with company strategic vision.
Open position : Sales Representative
Location : East London
Salary : Market related + benefits
Type : Permanent position
EE / AA position
Job requirements :
- Grade 12 / Matric
- Relevant tertiary qualification
- Previous experience
- Code 8 driver's licence
- Position would involve one or two nights over-night and will be required to travel to HO in PE for meetings from time to time and will stay overnight
-Excellent work ethic – honest, reliable, hardworking, dedicated, takes pride in work carried out
- Dedication to service excellence in every aspect of work carried out; strong focus on internal and external customer service; ability to build long-term relationships with colleagues and external customers
- Ability to take customers through the sales process
- Ability to interpret product differentiators and leverage the product range's competitive edge
- Ability to grasp technical concepts quickly
- Ability to negotiate on a win-win basis in a spirit of cooperation and collaboration
- High energy levels – must be resilient and determined; must be committed to exceed cold-calling targets / objectives
- Strong financial / numerical ability; sound understanding of business and economic principles
- Sound knowledge of developing new business and successfully targeting and converting new accounts
- Proven entrepreneurial skills (adding value by doing business smartly and efficiently) & development, communication and implementation of sales strategies
- Strong decision-making skills & ability to use initiative and assume responsibility
- Highly developed prioritising and multi-tasking skills; must be proactive with a strong sense of urgency; problem solving and decision-making skills; must be able to function effectively under pressure
- Must be a team player with the ability to contribute to a positive team environment, to contribute to building common ownership of commitment to group goals, shared vision and problem-solving; must be committed to building relationships within all levels of our organisation
- Ability to grasp and interpret goals and vision and to communicate it / implement strategies effectively with evident improvement
- Excellent organizational / administrative / group dynamics facilitation and interpersonal skills, strong written and verbal communication skills – ability to relate to and be accepted by people
- Ability to adapt to and accept change, new ideas, new challenges
- Proficient in MS Outlook, Word, Excel and PowerPoint
Duties :
-Responsible to plan, prepare, submit and ensure achievement of unit sales targets, growth and profitability targets, cold calling and customer visit targets in an assigned sales territory – all of these to be set and determined in conjunction with Regional Sales Manager
- Responsible to accurately collect customer information, ensure that it is submitted timeously to responsible person for capture on Kerridge system and ensure follow-up activities are carried out
- Responsible to meet sales growth / market share increase objectives in assigned sales territory; responsible for total sales process – introduction of product offering to new clients / revisiting the product offering with existing clients, engage potential customers into the sales process, get to the right person, convert prospects into qualified leads, work in unison with Area Sales Manager(s) to use appropriate selling skills and techniques to ensure it is converted into a sale / to close the deals
- Responsible to ensure quality of customer interaction and service (develop and implement strategy to ensure proper / scheduled cover of sales territory assigned, developing partnerships with and tailor-made solutions for clients; evaluation of own development needs and ensuring lack of knowledge / skills are addressed).
- Sound financial management of deals in line with budget and company strategic objectives (ensure the quality of rental business activated is in line with company objectives; ensure order take targets, invoicing targets and GP targets are met, ensure key administrative support functions are diligently executed, e.g. delivery and collection of contracts; ensure discounts are approved / within limits; ensure site inspections are carried out; etc.).
- Preparation and presentation of reports as and when required.
- Drive customer service and ensure all actions are in line with company's vision and values
- Participative responsibility to grow department in line with company requirements
- Ability to develop and implement operational innovation
---
251 people have viewed this job.
About King Recruitment Solutions
King Recruitment Solutions is a registered Recruitment / Temporary Employment Services (TES) Agency situated in Newton Park, Port Elizabeth. We operate as a family owned business which was established in 1994. King Recruitment Solutions has always concentrated on giving excellent service by providing an employment solution to businesses both large and small in Nelson Mandela Bay.
Our mission is to provide quality Temporary Employment Services to our valued clients, and to make sure that our service is always of the highest level. We also strive to conduct our business in such a way that enables our clients to operate at maximum capacity with the right labour force.
Our vision is to uplift the image of Temporary and Permanent Employment Services by providing our clients with a productive labour force, whilst providing employment for job seekers in Nelson Mandela Bay.
Similar Jobs
Sales Consultant
Western Cape
Job Type: Contract
Posted 09 Jun 2021 | 49 Days left
More Jobs at King Recruitment Solutions