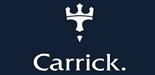 ---
Vacancy Details
Employer: Carrick Wealth (PTY) Ltd
· Maintain detailed knowledge of retirement alternatives in various domiciles
· Source and contact potential clients and setup initial meetings, analyse financial information obtained for clients and determine strategies, products and recommend solution/s to assist client with their financial objectives
· Provide feedback on a regular basis on current portfolio status
· Extensive knowledge in the Financial Services Industry is a requirement
· Producing financial reports
---
Required Skills
sales : 4 to 5 years
communication skills : 4 to 5 years
numeracy skills : 4 to 5 years
---
Candidate Requirements
· Minimum 5 to 10 years' experience in
· the financial services sector
· Suitable qualifications - RE5 and NQF 5

· Proven track record
· Great personal sales experience
· Experience working for a well-known brand
---
5 people have applied for this job. 275 people have viewed this job.
About Carrick Wealth (PTY) Ltd
Carrick Wealth are leaders in wealth and capital management.
The Carrick Wealth seal carries with it the principles of trust, professionalism and partnership. We offer independent financial advice to a diverse range of highly successful individuals, and a comprehensive spectrum of the finest financial solutions through well-respected international financial institutions. Above all else, service to clients is our raison d'être. With boutique-style personal attention and one-on-one advice, in the Carrick realm the client is most certainly king.
Similar Jobs
Wealth Advisor
Western Cape
Job Type: Permanent
Posted 26 May 2021 | 35 Days left
Wealth Advisor
Gauteng
Job Type: Permanent
Posted 26 May 2021 | 35 Days left
Wealth advisor
Sandton
Job Type: Permanent
Posted 07 Jun 2021 | 48 Days left
Wealth advisor
Sandton
Job Type: Permanent
Posted 22 May 2021 | 32 Days left
More Jobs at Carrick Wealth (PTY) Ltd
Wealth Advisor
Gauteng
Job Type: Permanent
Posted 26 May 2021 | 35 Days left
Wealth Advisor
Western Cape
Job Type: Permanent
Posted 26 May 2021 | 35 Days left