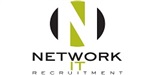 External Application
---
Vacancy Details
Employer: Network IT Recruitment, Stellenbosch
Java Developer R420 000 Cape Town
Would you like to join a super motivated team designing and developing Solutions?
Join this Company if you are a technically strong Java Programmer.
Experience:
SQL;
Java Enterprise Edition (EJB, JPA, JAX-RS, JAX-WS).
DESIRABLE:
Experience in the medical insurance/healthcare industry;
Experience within a project environment essential
Other programing languages/frameworks: JSF/JSP, JavaScript, JQuery, AngularJS, Material Design, Bootstrap.
Education:
BSc in Computer Science / Diploma / Oracle Certification;
3 years + experience as a programmer in Java.
Please send your cv directly to cwallis@networkfinance.co.za
---
2 people have applied for this job. 700 people have viewed this job.
About Network IT Recruitment, Stellenbosch
Established in 1987, Network Recruitment has offered optimum perm and contract recruitment solutions to client and candidate for over 20 years in the specialist areas of IT, Finance and Engineering thus, living up to its credo of DEVELOPING RELATIONSHIPS, DELIVERING RESULTS!
Network Recruitment is a trading division within ADvTECH Resourcing (Pty) Ltd, a wholly owned subsidiary of the listed company, ADvTECH Limited, a JSE-listed company. The Network Recruitment brand is represented nationally, with branches located throughout Gauteng, and is able to make both national, African and international
Network Recruitment is a member of APSO (The Association of Personnel Service Organisations of South Africa) and is ethically bound to adhere to a strict code of ethics, ensuring above average levels of service excellence.
Network IT Executive
Network IT Recruitment's strategy hinges on forging close partnerships with leading IT companies and outstanding professionals in this field.
Regular consultation enables more accurate matching of candidates to each position, the specific culture of the organisation, and clearer understanding of current and future requirements and expectations of the client. The resulting return on investment for the client, as well as career enhancement for the candidate, ensures consistent, repeat business for Network IT Recruitment. Long term relationships are formed to the mutual benefit of all parties.
The technical knowledge of our consultants is a great asset, and is supplemented by extensive training. This contributes to a high success rate in meeting client and candidate requirements efficiently and accurately.
Similar Jobs
Java Developer
Cape Town
Job Type: Permanent
Posted 21 Jun 2021 | 58 Days left
More Jobs at Network IT Recruitment, Stellenbosch