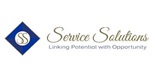 Salary:

Market Related

Job Type: Permanent

Sectors: Import & Export

Reference: CT002959/MS
Partner Ad
External Application
---
Vacancy Details
Employer: Service Solutions Staffing
Branch Manager (Logistics) - Port Elizabeth
Branch Manager (Logistics) – Port Elizabeth
National Fleet & Logistics company in PE is seeking to employ a Branch Manager for their busy depot
Brief overview of position:


Responsible for greeting customers, processing rentals and selling optional services, answering and receiving telephone calls, resolving overdue rentals, responding to customer questions and complaints, servicing vehicles for customer rentals and communicating with drivers for customer pick-ups and deliveries




Manage the daily business activities alongside your employees to ensure excellent customer service, sustainable profit and a well-maintained fleet. Also, to ensure that company assets are not at risk and that all controls are in place and managed daily. Provide vehicle and staff management / service to customers. Manage the process flow within the branch and between other departments


Main requirements:


Grade 12


Valid SA Driver's License


Fleet / Logistics / Transport Background


Salary - CTC package, includes Medical Aid and Pension
Please email CV + Salary Requirements + Recent Picture to
Marlene on marlene@servicesolutions.co.za Or Noelle on recruiter@servicesolutions.co.za
---
945 people have viewed this job.
About Service Solutions Staffing
The Specific aim of the company is to provide a highly personalised, customer focussed service when it comes to staff recruitment. With a client base ranging from blue-chip corporates through to SMME's, we pride oursleves on achieving this objective through constant monitoring of the market.
Our logo - "Linking Potential with Opportunity" sums up the way we go about our business. Assessment of each client needs, coupled with the career aspirations of our candidates allows us to put forward people we believe will add value to the company they join.
Mainly specializing in logistics and retail related business, we are also well positioned to handle general placements.
We are able to assist our clients with candidates on a temporary contractual basis where necessary.
Additional service include access to verification services.
Positions are advertised on the most relevent media, where there is highest exposure to quality job seekers.
Strict screening results in a database of candidates who are checked. Our guarantees are designed to provide peace of mind in a way that ensures the responsibility for filling a position is our prime concern throughout.
SERVICE SOLUTIONS HAS BEEN RATED A LEVEL FOUR CONTRIBUTOR TO BROADBASED ECONOMIC EMPOWERMENT - 100% BEE PROCUREMENT RECOGNITION LEVEL
More Jobs at Service Solutions Staffing