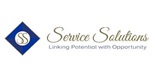 External Application
---
Vacancy Details
Employer: Service Solutions Staffing
Call Centre Operations Manager – Cape Town
Call Centre Operations Manager – Cape Town
Well Established Investment Group is looking for a Call Centre Operations Manager to join their team in Cape Town
Duties and Responsibilities:


Serves customers by planning and implementing call centre strategies and operations; improving systems and processes; managing staff.


Establish daily team goals


Monitor call metrics, track effectiveness in call time, quality and customer experience


Step in to handle escalated issue resolution and VIP customer service


Prepare weekly and monthly KPI reports for submission to executive management


Conduct feedback sessions with team members using recorded calls as learning tools


Determines call centre operational strategies by conducting needs assessments, performance reviews, capacity planning, and cost/benefit analyses; identifying and evaluating state-of-the-art technologies; defining user requirements; establishing technical specifications, and production, productivity, quality, and customer-service standards; contributing information and analysis to organizational strategic plans and reviews.


Develops call centre systems by developing customer interaction and voice response systems, and voice networks; designing user interfaces; developing and executing user acceptance test plans; planning and controlling implementations.


Maintains and improves call centre operations by monitoring system performance; identifying and resolving problems; preparing and completing action plans; completing system audits and analyses; managing system and process improvement and quality assurance programs; installing upgrades.


Accomplishes call centre objectives by orienting, training, assigning, coaching, counselling, and disciplining employees; administering scheduling systems; communicating job expectations; planning, monitoring, appraising, and reviewing job contributions; planning and reviewing compensation actions; enforcing policies and procedures.


Meets call centre financial objectives by estimating requirements; preparing an annual budget; scheduling expenditures; analysing variances; initiating corrective actions.


Prepares call centre performance reports by collecting, analysing, and summarizing data and trends.


Maintains equipment by evaluating and installing equipment; developing preventive maintenance programs; calling for repairs; evaluating and implementing upgrades.


Maintains professional and technical knowledge by tracking emerging trends in call centre operations management; attending educational workshops; reviewing professional publications; establishing personal networks; benchmarking state-of-the-art practices; participating in professional societies.


Accomplishes organization goals by accepting ownership for accomplishing new and different requests; exploring opportunities to add value to job accomplishments


Monitor and improve ordering, telephone handling and other procedures.


Requirements and Qualifications:


High school diploma or equivalent; Higher degree in a relevant discipline


Certified Call Centre Manager (e.g. CCCM) advantageous but not required, or equivalent qualification is a plus


Proven experience as call centre manager or similar position


Experience in customer service is required


Knowledge of performance evaluation and customer service metrics


Solid understanding of reporting and budgeting procedures


Experience in basic financial analysis (Cost-effectiveness, cost-benefit etc.)


Proficient in MS Office and call centre equipment/software programs


Outstanding communication and interpersonal skills


Excellent organizational and leadership skills with a problem-solving ability


Customer Focus


Customer Service Experience Preferred


Reporting


Process Improvement


Problem Solving


People Skills


Teamwork


People Management


Managing Processes


Emphasizing Excellence


Motivated self-starter


5+ years of managerial experience in Call Centre environment


Salary – Negotiable depending on experience
Please send your CV + Salary Expectations + Recent Photo to Noelle on recruiter@servicesolutions.co.za OR Marlene on marlene@servicesolutions.co.za
---
253 people have viewed this job.
About Service Solutions Staffing
The Specific aim of the company is to provide a highly personalised, customer focussed service when it comes to staff recruitment. With a client base ranging from blue-chip corporates through to SMME's, we pride oursleves on achieving this objective through constant monitoring of the market.
Our logo - "Linking Potential with Opportunity" sums up the way we go about our business. Assessment of each client needs, coupled with the career aspirations of our candidates allows us to put forward people we believe will add value to the company they join.
Mainly specializing in logistics and retail related business, we are also well positioned to handle general placements.
We are able to assist our clients with candidates on a temporary contractual basis where necessary.
Additional service include access to verification services.
Positions are advertised on the most relevent media, where there is highest exposure to quality job seekers.
Strict screening results in a database of candidates who are checked. Our guarantees are designed to provide peace of mind in a way that ensures the responsibility for filling a position is our prime concern throughout.
SERVICE SOLUTIONS HAS BEEN RATED A LEVEL FOUR CONTRIBUTOR TO BROADBASED ECONOMIC EMPOWERMENT - 100% BEE PROCUREMENT RECOGNITION LEVEL
More Jobs at Service Solutions Staffing