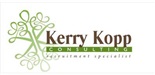 ---
Vacancy Details
Employer: Kerry Kopp Recruitment Specialists
AT LEAST 5 YEARS IN A SIMILAR ROLE
This job demands high degree of confidentiality and attention to detail.
Essential the Recruitment Officer is highly organised, motivated and has information at their fingertips.
Administratively very demanding to ensure accurate informaion and updates due to legal nature of the department.
-Posting of vacancies on company website, facebook page, LinkedIn etc, must display competence and past experience with social media management
- accurate and detailed gathering of applications, shortlists etc, presenting candidates to line managers
- contacting applicants and setting up interivews (online and inperson)
- co-ordinating interviews, attending interview keeping records
- assisting managers with outcomes based interview techniques and questions for each new vacancy
- ensuring that succeful applicants receive all necessary paperwork for onboarding and confirmation to managers of their acceptance/decline of the positiion
-ensuring all applicants get notification that the postion has been filled and thanking them for their interest
-managing and keeping accurate database of applicants and those who have been interviewed and declined etc
- managing and rolling out Graduate Recruitment Programme working with Tertiary Institutions
---
Required Skills
excel : 4 to 5 years
sage 300 : 2 to 3 years
labour legislation : 4 to 5 years
bee : 4 to 5 years
recruitment/retention : 4 to 5 years
HR Diploma : 4 to 5 years
---
Candidate Requirements
At LEAST 5 YEARS EXPERIENCE
HR Diploma/Degree or any other tertiary qualification an advantage
Knowledge of SAGE300 HR system
Knowledge of EE
Working knowledge of current Labour Legislation
Knowledge of BEE
Intermediate to Advanced knowledge of Ms Excel and Ms Word
---
Hot Job
52 people have applied for this job. 886 people have viewed this job.
Similar Jobs
Recruitment Officer
Durban Western Suburbs
Job Type: Permanent
Posted 01 Oct 2020 | 7 Days left
More Jobs at Kerry Kopp Recruitment Specialists
Farm manager
Drakensberg
Job Type: Permanent
Posted 25 Oct 2020 | 60 Days left
IR Officer
KZN Midlands
Job Type: Permanent
Posted 20 Oct 2020 | 10 Days left
IR Officer
Drakensberg
Job Type: Permanent
Posted 20 Oct 2020 | 10 Days left
IR Officer
Pietermaritzburg
Job Type: Permanent
Posted 20 Oct 2020 | 10 Days left