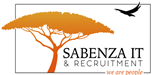 ---
Vacancy Details
Employer: DCV Sabenza Information Technology PTY Ltd
A vacancy exists for a Senior Software Engineer in our client's IT Department.
Main purpose of the role:
To design, develop and implement IT solutions including back-end services and database structures while leading a .Net development team.
Key Responsibilities:
Designing and building modular and scalable solutions that are optimised for re-use

Development of changes, fixes, integrations and new systems that will run efficiently and securely

Identify, prioritize and execute tasks in the software development life cycle

Automate tasks through appropriate tools and scripting

Review and debug code

Providing consulting services to the business, team members and project teams to ensure optimal solutions that comply with WCBS solution principles and standards

Leading, guiding and coaching the development team

Ensure software is up-to-date with latest technologies
Minimum requirements and experience:
Minimum 7 years development experience

Proven C#.Net Core experience

Proven Angular Experience

MS-SQL experience

'NoSQL' experience would be advantageous

Mobile development and Web Services experience would be advantageous

Valid Code EB driver's license without endorsements is essential

National Diploma or Degree in Information Systems/Computer Science
Competencies / behavioral dimensions:
Self-disciplined and self-motivated

Ability to multitask and prioritise

Must be able to work independently and perform under pressure

Excellent organizational and leadership skill

Customer Service ethic and excellent communication skills
Apply now for more information!
---
Required Skills
.Net: 7 to 8 years
C#: 7 to 8 years
Sql: 5 to 6 years
Angular: 3 to 4 years
Nosql: 3 to 4 years
Core: 2 to 3 years
---
299 people have viewed this job.
About DCV Sabenza Information Technology PTY Ltd
DCV-Sabenza is a South-African registered business focusing on SAP, general iT and industry specific recruitment. We have over 30 years' experience in recruiting in South-Africa, Australia, Europe, South- America and Asia and have worked with a number of large companies offering the best service.
We at DCV-Sabenza understand the changing market and mould our services around each of our client's needs to offer a personal service. DCV-Sabenza has forged strong relationships with both Clients and Consultants by ensuring both parties get the most out of every placement. Our Head Office is based in South-Africa with a secondary office in the UK so that we can keep in contact with expats who may consider returning to South-Africa so that we can offer our services globally for Consultants looking to go to South Africa and Consultants who are looking for opportunities abroad.
We at DCV-Sabenza recognize the difference it makes to maintain good client relationships and we are keeping our client base niche and manageable in order to give the best service possible. We have gained a good reputation in the market place and have built a very large network and database of consultants that we draw from for each role. We are able to send applications within 5 days subject to the complexity of the vacancy of receiving a role profile or job spec.
DCV-Sabenza not only specialise in the SAP, IT industry but also Aerospace, Engineering, Telecoms, Travel and Tourism, Hospitality and Catering, General (Such as admin/ reception staff etc.) to name a few. To clarify we specialise in all sectors such as Automotive, Manufacturing, Logistics, Banking, Mining, Construction, Utilities, Transportation, warehousing, Information Technology, Leisure and hospitality as well as the Public sector.
For further information, please visit our website www.sabenzait.co.za or call us at any time on Tel: 0330040131.
More Jobs at DCV Sabenza Information Technology PTY Ltd