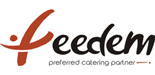 Salary:

Market Related

Bonus: Discretionary Bonus

Job Type: Permanent

Sectors: Hospitality Management

Benefits:

Medical Aid

Pension

Bonus

Training

Reference: CateringPM-Bloemfontein
---
Vacancy Details
Employer: Feedem Group
Catering Project Manager (Educational Sector)

We are looking to hire a brilliant, dynamic, and experienced Catering Project Manager to join our growing team at Feedem Group, Catering Division in Bloemfontein in the educational sector. Working in a school environment, managing the day to day running of the hostel and the tuck shop on the premises.

The ideal candidate would be strong in project management, problem-solving, passionate about food, ideal experience in the Catering Industry and the education sector.

The position enquires the ideal candidate to manage and motivate Unit Managers and Staff within the defined geographical district and to comply with standards laid down by the Client, to conform to Company policy procedures in order to enhance the profitability of the Company.

Responsibilities include but are not limited to the following:

The management of all Units under the Control of the Project Manager to the satisfaction of the respective clients, adherence to contractual specifications, budgets and acceptable profits from the area.

Weekly visits to units according to your weekly schedule. Clients to be visited while calling at the units.
Comprehensive checking of all weekly control sheets compiled by unit management. Training and guidance to ensure management complete control sheets accurately.
Adherence of all close-off dates as per weekly and monthly deadline schedule regarding administration, including salary variances, filing, and information received from the units.
In addition to point 3, a spot stock check on at least two units per week on 10 commodity items as per attached stock spot check report. Two cash checks to be carried out in cash taking units a week.
Implementation of the unit's administration manual on an ongoing basis.
Monitoring of management performance with reference to: Profit and loss weekly and monthly, Purchasing carried out within company policies procedures, Sales Control as per cash and credit income weekly and monthly.
Weekly and monthly evaluation of a unit profitability and immediate reporting to DM on unacceptable results (once budget is in operation). Prior to unit budgets implementation, It is the responsibility of the Project Manager to evaluate and decide if the profits realized are acceptable or not.
Ongoing application of Feedem personnel policies and procedures within the units according to the Company's standard manual.
Discussion during weekly meetings of any critical areas of concern arising from units due to mismanagement by management for example: Rolling of stock, holding back of invoices (Fictitious/inflated income) non-declaration of sales for various catering carried out, any actions that contravenes contract details and specifications, any action that contravenes company policy.
District Manager report to be completed to give details within the area as follows: Weekly-profit per unit (gross & nett), stock levels in relation to consumption, debtors' details – Unit 4, stock check reports
Monthly: P&L summary of all units (T/O, GP, %NP, etc.) Personnel: any developments and movements within the area regarding personnel, Sales: update on sales status, i.e., potential clients, proposals, etc.
Purchasing: details on new and present suppliers and problems/improvements, etc.
Quality: improvements and details about the unit standards, etc, Traveling reconciliation, Comment from Client meetings, unit managers meetings
The above reports to be handed in as per the schedule for control sheets as per cut-off dates for weekly and monthly, respectively.
To attend training courses as and when require
Authority: The Project Manager has the authority to make decisions and be responsible for the following
Monthly accounts for state contracts to be submitted timeously (as per deadline schedule)
Requests, administration, and incorporation of cash injections on an ongoing basis, within standard operational requirements. The GM must authorize any out of the ordinary cash injections.
Banking of monies from units into Feedem Group current account. Monitoring of debtors and collection of monies to be performed on an ongoing basis.
All stock days at units to be 7-10 days or less. Should unit stock be over the policy limits it must be brought to the GM's attention in the weekly report.
All new catering staff appointed lower than management can be approved by Project Manager. The GM prior to the appointment must approve all new catering management.
Work Relationships: Other senior management based at Head Office will have direct access to any unit falling under the control of the Project Manager.
General: In February of each year an annual profit maximization plan must be drawn up for the next financial year, taking into account the budgets and how these will be achieved.
---
Required Skills
Project Management: 5 to 6 years
Chef: 2 to 3 years
Hospitality Industry: 5 to 6 years
---
Candidate Requirements
Own reliable transport
Formal Qualification in Hospitality Management - NQF level 6
Minimum 5 years experience in managing a catering contract in a contract catering enviroment
Good level of practicle skills, a chef qualification would be advantageous
Good interpersonal and HR skills
Preference will be given to our designated Employee Groups, in order to achieve our Employment Equity targets
---
10 people have applied for this job. 320 people have viewed this job.
About Feedem Group
Feedem is a large contract catering company in South Africa which manages in excess of 300 sites and employs more than 4 000 people ranging from dieticians, chefs and human capital specialists to hygiene experts.
We provide a wide range of catering and associated services to clients in all industries. Allowing us to manage your catering services will enable you to focus on your core business while benefiting from our expertise. This will improve your economies of scale, infrastructure, and ability to add instant capacity to your organisation.
We customise our catering and services according to your needs. Our services are offered with confidence as everything we do is underpinned by an ethical code and full compliance with all the relevant industry standards and regulations.
We believe that happy staff members will lead to satisfied clients. In this way, we create a family environment and invest in our staff to ensure that this caring is carried through to our employees. We have a flat management structure, competent managers and an open-door policy.
We also focus on quality food, good taste, and speedy service. It is our experience that the people managing the catering operation can make or break a contract. As a result, our front-of-house experience strengthens the success of our catering services.
We have a country-wide footprint with offices in Johannesburg, Cape Town, Durban, George, Worcester, Port Elizabeth, Kimberley and Bloemfontein.
More Jobs at Feedem Group