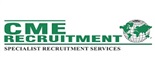 ---
Vacancy Details
Employer: CME Recruitment
PRODUCTION ENGINEER
MANUFACTURING
A large FMCG Manufacturing Plant is looking for a Production Engineer with experience gained in an FMCG plant.
Education:
· B-Tech Electrical Engineering or Mechanical Engineering
· 5 years minimum experience gained as a Production Manager in a large FMCG Plant
· Excellent Management skills
· Excellent communication skills in English and Afrikaans
· Cape Town based
The Job:
· Overseeing daily production and operations in the plant and maintaining consistent flow and balance
· Developing maintenance schedules to meet production target and optimum equipment performance
· Collaborating with waste management companies to source quality waste into the plant
· Responsible for monthly and annual reporting on Operations, Finance and Health and Safety
· Analyzing production data for performance management, decisions making and problem solving.
· Managing inventory and forecasting supplies based on demands
· Capital cost estimation and Opex budget forecasting and rigorously monitor and control it to ensure financial objectives are met and identifying areas of cost saving.
· Coordinating special projects and ensuring they are within scope, budget and schedule and using investment criteria calculations to ensure return on investment (ROI)
· Ensuring compliance to all Environmental Health & Safety goals & objectives.
· Oversee Quality control
· Collaborating with the HR department for recruiting
---
6 people have applied for this job. 153 people have viewed this job.
About CME Recruitment
"CME Recruitment is a dynamic and innovative Recruitment and Search that provides tailor made recruitment solutions
to companies in the Management, Technical, Engineering, Construction, FMCG, Finance, Administration, Logistics, Retail and Pharmaceutical sectors.
Our Professional Team with over 50 years' experience is highly focused on providing recruitment solutions.
We offer professional recruitment and search services to both national and international corporations.
More Jobs at CME Recruitment