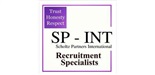 Salary:

R5 000.00 - R6 000.00 Per Month

Commission: Yes

Job Type: Permanent

Reference: Hartbeespoort LL
---
Vacancy Details
Employer: Scholtz Partners International
Retail Sales Assistant - Hartbeespoort
Salary R 5000 - 6000
Our client is looking for an experienced sales assistant to work full time in their store in Hartbeespoort.
Please note that this is a RETAIL SALES position selling adult toys and accessories.
Hours:
Must be willing to work evening shifts every 2 weeks. Shifts are typically 9am-9pm or shift 9am to 3pm & 3pm to 9pm. This will alternate weekly
Must have reliable transport to and from the store or the ability to commute reliably.
Please Email your CV and supporting documents to
bonita@sp-int.co.za
Should you not receive feedback within 2 weeks of applying, please accept that you did not qualify for the position applied for.
Only Shortlisted candidates will be contacted.
---
Candidate Requirements
The successful candidate will have the following attributes and skills:
• Sales Assistant – min 1 Year Sales experience & own reliable transport
• An open-minded attitude and maturity towards adult products.
• Good customer service skills.
• Good communication skills.
• Previous retail experience.
• Administration skills are an advantage.
Clear ITC and Criminal records + sober habits essential
---
12 people have applied for this job. 190 people have viewed this job.
About Scholtz Partners International
We are a recruitment company that base our values on trust, honesty, and respect with over 20 years of experience. Scholtz Partners International is a generalist recruitment agency, offering professional recruitment consulting services, which offers individuals and businesses an opportunity to successfully integrate specialized talent into any workplace. Scholtz Partners International is a true pioneer in recruitment within South Africa!
What We Offer Our Clients
Professional Recruitment Services (Permanent and Contract staff)
We can offer our clients normal terms and conditions or a yearly retainer fee
Regular client visits to ensure we get candidates that fit your company culture
Advertising of your company's vacancies on various job portals
Sourcing and screening of candidates
Telephonic and face to face interviews
ITC and criminal checks as well as reference checks
Training on soft skills
HR consulting
Labour consulting / CCMA assistance
Services from our partners as and when requested
National and International Recruitment
What We Offer Our Candidates
Career counselling
CV assistance - We can move your CV to the top of the pile
CV creation - We will redo your CV in a professional format
Training - Interview Skills; The power of the perfect interview, soft skills as required
Disciplinary hearing and CCMA consulting
Image consulting
Career and HR advice
More Jobs at Scholtz Partners International
Workshop Foreman
Western Cape
Job Type: Permanent
Posted 29 Sep 2022 | 61 Days left
Workshop Foreman
Cape Town
Job Type: Permanent
Posted 29 Sep 2022 | 61 Days left