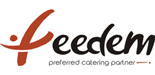 Salary:

Market Related

Bonus: Discretionary Bonus

Job Type: Permanent

Sectors: Hospitality Management

Reference: Project Manager - Centurion
---
Vacancy Details
Employer: Feedem Group
Our Inland Region is currently recruiting for an experianced Project Manager to oversee a major contract. Duties include:
To ensure the provision of quality food and service to the requirements and satisfaction of the client. This includes all meals, functions and resale item.

To plan and cost menus, making sure that the budgetary limits and prescribed menus are adhered to

To provide effective leadership to catering managers and their team of catering staff.

To ensure the company image is projected through excellent client relationships, quality of service, product and productivity.

Develop medium and long-term strategies to grow the business in conjunction with the operations manager as well as the District Manager.

Comply with the divisions budgetary requirements within the financial guidelines.

Understand and maintain all financial aspects of the business – budgeting, forecasting and monthly results.

Understand and implement company standards, policies and procedures in line with legislation.

Ensure quality control is in accordance with the company standards.

Oversee cash management (control of debtors, stock checks and cash checks etc).

E

ffect profit growth in all areas of responsibility.

Meeting agreed deadlines with regards to submission of forecasts, profit and loss's etc.

Ensure cash spend is limited.

Drive training, development and succession within contract.

Ensure all SOP's under their control are updated regularly.

Human resources management (including I.R., training and development) and performance management.

Operational standards – Maintain and improve on operational standards as agreed.

Meeting all quality / star grading standards within the areas of responsibility.

Ensure smooth running of Biometrics system and agreed compliance.

Drive innovation and promotion.

Buy – in on procurement initiatives and promotions.

Full responsibility of contract and with regards to cash and stock management

.

Build and maintain client relationships.

Understand and maintain all financial aspects of the business – budgeting, forecasting and monthly results.

Understand and implement company standards, policies and procedures in line with legislation.
---
Required Skills
project management : 5 to 6 years
chef : 2 to 3 years
hospitality industry : 5 to 6 years
---
Candidate Requirements
Matric/ Grade 12
Formal Qualification in Hospitality Management - NQF level 6
Minimum 5 years experience in managing a catering contract in a contract catering enviroment
Business Management principles, including proven Financial Skills
Good level of practicle skills, a chef qualification would be advantageous
Good interpersonal and HR skills
Must Have a Valid driver's license and Own relaible vehicle
Strong Banqueting/ Function background
Strong understanding of Back or house and Kitchen
Proof of vaccination must be submitted with CV.
Preference will be given to our designated Employee Groups, in order to achieve our Employment Equity targets
---
16 people have applied for this job. 343 people have viewed this job.
About Feedem Group
Feedem is a large contract catering company in South Africa which manages in excess of 300 sites and employs more than 4 000 people ranging from dieticians, chefs and human capital specialists to hygiene experts.
We provide a wide range of catering and associated services to clients in all industries. Allowing us to manage your catering services will enable you to focus on your core business while benefiting from our expertise. This will improve your economies of scale, infrastructure, and ability to add instant capacity to your organisation.
We customise our catering and services according to your needs. Our services are offered with confidence as everything we do is underpinned by an ethical code and full compliance with all the relevant industry standards and regulations.
We believe that happy staff members will lead to satisfied clients. In this way, we create a family environment and invest in our staff to ensure that this caring is carried through to our employees. We have a flat management structure, competent managers and an open-door policy.
We also focus on quality food, good taste, and speedy service. It is our experience that the people managing the catering operation can make or break a contract. As a result, our front-of-house experience strengthens the success of our catering services.
We have a country-wide footprint with offices in Johannesburg, Cape Town, Durban, George, Worcester, Port Elizabeth, Kimberley and Bloemfontein.
More Jobs at Feedem Group