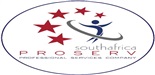 Salary:

R20 000.00 - R25 000.00 Per Month (Negotiable)

Job Type: Permanent

Sectors: Social Services

Reference: OT001CPT
---
Vacancy Details
Employer: ProServ South Africa
Conduct functional assessments and write reasonable accommodation for learners with disabilities to ensure the necessary support is provided in classroom and the workplace.
Conduct accessibility audits for host sites and client sites as required.
Facilitate disability sensitisation sessions for host sites and client site employees and line managers.
Ensure all documentation is available to meet BBBEE auditing requirements related to disability management.
KEY PERFORMANCE AREAS
· Conduct Functional Assessment of learners with disabilities
· Conduct accessibility audits & talks where needed
· Provide continuous support to learners, facilitators, and families of learners
· Assist Recruitment Department with recruitment of disabled learners
· Client Sensitisation
KEY TASKS TO BE PERFORMED
Assessments of learners with disabilities
· Review all applications of persons with disabilities according to the stipulated criteria
· Conduct and record functional assessments on applicants that successfully pass the proficiency assessment
· Submit the selection recommendation form to the relevant stakeholders within timelines
· Ensure that a disability pack is compiled for each learner and handed over to the relevant department for delivery
· To respond to queries raised by clients and hosts after RA delivery
· Scan functional assessment reports of the applicants onto the server
· Manage specific projects as assigned
· Assist with updating material as required
· Discuss and ensure signing off with the Facilities and HSE Manager if a learner with a physically disability needs an access card to enter the premises with a vehicle
Conduct accessibility audits and talks where needed
· Conduct accessibility audits as requested and provide feedback on recommendations
· Ensure that a record of the report is available on the server
Provide continuous support to learners, facilitators, and families of learners
· Perform assessments and follow up sessions on relapsing learners as required, provide feedback, and refer as necessary
· Deliver disability sensitisation training as needed
· Develop disability talks
· Develop and roll out of disability related workshops for learners and staff
· Identify and establish partnerships with organisations that could improve the support offered to learners e.g. Social workers, counselling services etc.
· Attend symposiums, workshops, conferences, and seminars for continuous professional development
Assist Recruitment Department with recruitment of disabled learners
· Provide guidance to Recruitment department in identifying sources for recruitment of Persons with disability
· Provide Recruitment Department with recommendations and suggestions where possible.
---
Required Skills
functional assessments : 2 to 3 years
Client site Sensitisation : 2 to 3 years
---
Candidate Requirements
REQUIREMENTS
· Self-motivated
· Honest and reliable
· Not accept second best and uphold ethical standards
· Ability to work under pressure
· Must be able to work in a team and independently
· Innovative and creative with the ability to generate new ideas and follow through to completion
· Excellent report writing, record keeping and administration skills
· Strong communication skills, including written, verbal, facilitation, conflict management and interpersonal skills
· Leadership skills, including being assertive, able to solve problems and be a decisive thinker
· Able to manage time and be adaptable
JOB KNOWLEDGE, SPECIALISED SKILLS AND EXPERIENCE
· An understanding of medical conditions and the impact thereof on a person
· Knowledge and experience on how to conduct a holistic functional assessment.
· An understanding of relevant legislation e.g. Mental Health Care Act, Employment Equity Act and Amendments, Technical Assistance Guidelines on the Employment of Persons with Disabilities, Code of Good Practice, Skills Development Act, Skills Development Levies Act
· Computer literate (Microsoft Word, Microsoft Excel and Microsoft Power Point)
NECESSARY QUALIFICATIONS
· Four (4) year B. Occupational Therapy or BSc. Occupational Therapy degree
· Current registration with HPCSA
· Minimum Requirements: Degree plus two (2) years' experience
Please Note:
All employees are responsible for the successful implementation of all projects and deliverables therefore any additional tasks may be required to ensure successful projects, please note the job description may change at the discretion of management from time to time.
---
5 people have applied for this job. 388 people have viewed this job.
About ProServ South Africa
ProServ South Africa offers sustainable skills development solutions in Southern Africa. We believe that lifelong learning and continuous professional development build the capabilities of both citizens and society at large.
Our philosophy emulates that of our parent company, NEXTEC
To attract, develop and retain the best people.
To develop lifelong, mutually beneficial partnerships with customers and partners.
To ensure professional planning and execution
To constantly and sustainably transform ourselves and to manage our diversity.
To grow our top and bottom lines proportionately, while remaining entrepreneurial
More Jobs at ProServ South Africa