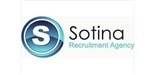 ---
Vacancy Details
Employer: Sotina Recruitment
Looking for a special person with recruitment experience in a fast paced in-house corporate environment, or Recruitment Agency
Relevant bulk and specialized recruitment experience (advantageous)
Recruiting senior positions
Able to work remotely (from home)
Tech Savvy
Excellent interpersonal and communication skills, both written and verbal
Proficiency in the use of Recruitment Management Software
360 recruitment experience
---
Required Skills
retail experience : 4 to 5 years
it experience : 3 to 4 years
360 experience in recruitment : 4 to 5 years
General recruitment : 4 to 5 years
---
Candidate Requirements
Qualifications and Experience
• Completed relevant Diploma/Degree
• Managing a team
• Proven track record
Requirements:
• Goal orientated
• Build up a talent pool of candidates with scarce skills and send to clients
• Interview candidates
• Business development and building relationships with existing and new clients
• Meeting revenue targets
• Candidate attraction
• Growing and maintaining relationships with candidate
• Market research
• Negotiating fees with clients
• Client proposals and presentations
Applicant Feedback Policy
Sotina Recruitment endeavors to provide feedback to all candidates whenever possible. However, if you do not hear from one of our Recruiters within 30 days, please accept that your application was unsuccessful
---
Hot Job
71 people have applied for this job. 3216 people have viewed this job.
About Sotina Recruitment
Sotina Recruitment Agency - Sotina Holding was established in 2010 and provides recruitment services to business partners. Our offices are based in Johannesburg Gauteng and Paarl Western Cape. We adapt best practices to facilitate sourcing, validating and evaluating profiles to deliver candidates of the required skills and calibre to our clients. Based on the requirement of the job profile, we search for candidates from our online database and we also advertise in local platforms like Facebook, Instagram and LinkedIn, we pride ourselves with high quality standards, professionalism, integrity, passion and excellent customer service. We recruit top calibre candidates throughout South Africa.
Our human resources management solutions range from permanent recruitment, short-term long-term contract placements.
These are more reasons to partner with us:
Our candidates go through comprehensive background checks
Team
We have a multi-talented team of highly experienced recruitment consultants, who specialize in different industries and sectors. Our team of consultants works in close coordination with clients to conceptualize their requirements and offer them best solutions. Further, we also have a dedicated team of customer care, who attend to all the queries of the clients and furnish them with complete information about the services.
Customer Satisfaction
While speed, dependability, reliability and efficiency are our priority, customer satisfaction is the ultimate goal. Our unique working methodology and untiring efforts enable us to shortlist appropriate candidates, who are at the helm of rendering the best of present generation services. We utilize our in-depth market knowledge and comprehensive research techniques to meet the unique requirements of every client
More Jobs at Sotina Recruitment