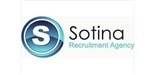 Salary:

Market Related

Job Type: Permanent

Reference: Senior Data Scientist
---
Vacancy Details
Employer: Sotina Recruitment
The Data Scientist III position requires a senior Data Scientist that oversees the activities of junior data scientists, provides advanced expertise on statistical and mathematical concepts, and applies and inspires the adoption of advanced data science and analytics across the business
Work in a cross-functional team, collaborating with fellow data scientists, engineers, and analysts to understand project goals, interpret end-users' intent and drive the build, implementation and scale-up of algorithms for measurable impact. Understand and use ANN's, CNN's, RNN's, autoencoders, fundamental data science concepts (linear and logistic regression, SVM's, dimensionality reduction), decision trees, gradient boosting, ensemble models, etc. to develop machine learning models. Formulating, suggesting, and managing data-driven projects which are geared at furthering the business's interests. Collating and cleaning data from various entities for later use by Junior Data Scientists. Delegating tasks to Junior Data Scientists in order to realize the successful completion of projects. Monitoring the performance of Junior Data Scientists and providing them with practical guidance, as needed.
---
Required Skills
sql : 3 to 4 years
python : 3 to 4 years
probability and statistics : 3 to 4 years
prescriptive modelling : 4 to 5 years
machine learning experience : 4 to 5 years
Cloud Platform (AWS) advantageous : 5 to 6 years
---
Candidate Requirements
Qualifications Advanced degree (Masters/Phd) in Data Science, Statistics, Computer Science, or similar.
Experience Extensive experience as a Data Scientist - 5+ years. Proficiency in R or Python, where the latter is preferred. In-depth understanding of SQL. Competent in machine learning principles and techniques. Demonstrable history of devising and overseeing data-centred projects. Ability to relay insights in layman's terms, such that these can be used to inform business decisions. Outstanding supervision and mentorship abilities and experience. Capacity to foster a healthy, stimulating work environment that frequently harnesses teamwork. Compliance with prevailing ethical standards.
---
6 people have applied for this job. 3393 people have viewed this job.
About Sotina Recruitment
Sotina Recruitment Agency - Sotina Holding was established in 2010 and provides recruitment services to business partners. Our offices are based in Johannesburg Gauteng and Paarl Western Cape. We adapt best practices to facilitate sourcing, validating and evaluating profiles to deliver candidates of the required skills and calibre to our clients. Based on the requirement of the job profile, we search for candidates from our online database and we also advertise in local platforms like Facebook, Instagram and LinkedIn, we pride ourselves with high quality standards, professionalism, integrity, passion and excellent customer service. We recruit top calibre candidates throughout South Africa.
Our human resources management solutions range from permanent recruitment, short-term long-term contract placements.
These are more reasons to partner with us:
Our candidates go through comprehensive background checks
Team
We have a multi-talented team of highly experienced recruitment consultants, who specialize in different industries and sectors. Our team of consultants works in close coordination with clients to conceptualize their requirements and offer them best solutions. Further, we also have a dedicated team of customer care, who attend to all the queries of the clients and furnish them with complete information about the services.
Customer Satisfaction
While speed, dependability, reliability and efficiency are our priority, customer satisfaction is the ultimate goal. Our unique working methodology and untiring efforts enable us to shortlist appropriate candidates, who are at the helm of rendering the best of present generation services. We utilize our in-depth market knowledge and comprehensive research techniques to meet the unique requirements of every client
More Jobs at Sotina Recruitment