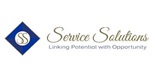 ---
Vacancy Details
Employer: Service Solutions Staffing
Portfolio Administrator – Cape Town   Well established investment group is looking for a Portfolio Administrator to join their team in Cape Town   Requirements:   NQF 4 or working towards completing your NQF 4 At least 2 years of experience in ...
Portfolio Administrator – Cape Town
Well established investment group is looking for a Portfolio Administrator to join their team in Cape Town
Requirements:
NQF 4 or working towards completing your NQF 4
At least 2 years of experience in a similar position
Experience with rentals
Experience with PayProp
Great administrative skills
Excellent communication skills and telephone etiquette
Will work predominantly on the following programs - Red Rabbit, PayProp, Excel, Google Docs
Functions & Responsibilities
Monthly list to team on tenants that are vacating on allocated portfolio
Send Vacating checklist to all tenants who give notice on allocated portfolio
Attend AGM's on allocated blocks in person or via Zoom
Monthly walk around blocks managed and report to managing agents on findings – follow up on items that need to be attended to
Receive rental application and open file on laptop, prepare all docs
Upload lease to PayProp and debit order form
Create property, create tenant and create invoices on PayProp
What accounts are we paying for the Landlord? Have the accounts redirected to the company and ensure the correct amounts are paid every month.
Monthly statements to Landlord
Monthly statements to tenants and invoices
Attend to monthly reconciliation of rental payments on allocated portfolio
Attend to monthly account payments for Landlord
Attend to Deposit refund payments within 14 days
Load deposit processing fee on deposit refunds
Follow up on tenants in arrears as per strict process LOD on 4th of every month
Investors to be kept updated on late payments at all times
Have an action plan in place to collect arrears
Eviction instructions to be handed to attorneys om behalf of the owner if requested
Download contracts expiring from PayProp according to 40/80 rule, negotiate renewals accordingly and ensure all invoices have been loaded
When warning letters are received by Body Corporate, send to tenant and keep track that it is followed up on
Attend to problems with water and electricity accounts
Maintenance on the portfolio:
Portfolios are split to a maximum of 250 properties per person
Each Portfolio administrator will have a list of approved contractors that they will work with
Each contractor will sign a service level agreement (SLA) which must be adhered to
Attend to all maintenance and exit inspection maintenance on allocated portfolio
Salary – Negotiable depending on experience
Please send your CV + Salary Expectations + Recent Photo to Noelle on recruiter@servicesolutions.co.za OR Marlene on marlene@servicesolutions.co.za
---
35 people have applied for this job. 603 people have viewed this job.
About Service Solutions Staffing
The Specific aim of the company is to provide a highly personalised, customer focussed service when it comes to staff recruitment. With a client base ranging from blue-chip corporates through to SMME's, we pride oursleves on achieving this objective through constant monitoring of the market.
Our logo - "Linking Potential with Opportunity" sums up the way we go about our business. Assessment of each client needs, coupled with the career aspirations of our candidates allows us to put forward people we believe will add value to the company they join.
Mainly specializing in logistics and retail related business, we are also well positioned to handle general placements.
We are able to assist our clients with candidates on a temporary contractual basis where necessary.
Additional service include access to verification services.
Positions are advertised on the most relevent media, where there is highest exposure to quality job seekers.
Strict screening results in a database of candidates who are checked. Our guarantees are designed to provide peace of mind in a way that ensures the responsibility for filling a position is our prime concern throughout.
SERVICE SOLUTIONS HAS BEEN RATED A LEVEL FOUR CONTRIBUTOR TO BROADBASED ECONOMIC EMPOWERMENT - 100% BEE PROCUREMENT RECOGNITION LEVEL
More Jobs at Service Solutions Staffing