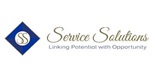 External Application
---
Vacancy Details
Employer: Service Solutions Staffing
Commercial Financial Analyst (FMCG Retail) - Cape Town CBD
Commercial Financial Analyst (FMCG Retail) - Cape Town CBD
Our client, a leader in FMCG Retail is seeking to employ a Commercial Financial Analyst.
Based in CT CBD
Position Purpose
Responsible for working with various departments at Client and assisting with day to day queries, providing support as well as producing information to enable management to make key decisions. Responsible for elements of the month end process.
Key Responsibilities


Ensure all pricing for customers is reflected accurately in SAP;


Monitor monthly marketing and trade spend in comparison with Budget and latest estimates;


Assist product managers with the costing for new product development;


Develop and maintain accurate customer contribution statements


Administrator for the business intelligence warehouse (IBM Cognos); and


Assist Head of Retail by analyzing effectiveness and efficiency of Retail environment.


Support the CFO and Senior Controller with Budget and Latest Estimate processes, ad hoc reporting requirements and IT related projects


Skills and Competencies required


University degree and ideally studying towards the CIMA degree;


A minimum of 2 years experience in a finance analytical role;


Highly numerate with excellent analytical skills and attention to detail;


Knowledge and insights about customers and needs in FMCG industry and/or Retail; and


Strong Excel skills, SAP experience considered to be an advantage


As per our client's requirements and as this is a position of honesty and integrity, a clear credit and criminal profile is required


Salary – Negotiable depending on experience
Please email CV + Salary Requirements + Recent Photo to Marlene on marlene@servicesolutions.co.za
---
284 people have viewed this job.
About Service Solutions Staffing
The Specific aim of the company is to provide a highly personalised, customer focussed service when it comes to staff recruitment. With a client base ranging from blue-chip corporates through to SMME's, we pride oursleves on achieving this objective through constant monitoring of the market.
Our logo - "Linking Potential with Opportunity" sums up the way we go about our business. Assessment of each client needs, coupled with the career aspirations of our candidates allows us to put forward people we believe will add value to the company they join.
Mainly specializing in logistics and retail related business, we are also well positioned to handle general placements.
We are able to assist our clients with candidates on a temporary contractual basis where necessary.
Additional service include access to verification services.
Positions are advertised on the most relevent media, where there is highest exposure to quality job seekers.
Strict screening results in a database of candidates who are checked. Our guarantees are designed to provide peace of mind in a way that ensures the responsibility for filling a position is our prime concern throughout.
SERVICE SOLUTIONS HAS BEEN RATED A LEVEL FOUR CONTRIBUTOR TO BROADBASED ECONOMIC EMPOWERMENT - 100% BEE PROCUREMENT RECOGNITION LEVEL
More Jobs at Service Solutions Staffing