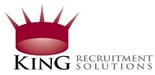 Salary:

Market Related

Job Type: Permanent

Sectors: Finance

Reference: PE000463/LB
Partner Ad
External Application
---
Vacancy Details
Employer: King Recruitment Solutions
A concern based in Uitenhage is seeking a Financial Assistant to support and maintain sound financial records, providing the plant, its management and parent company with accurate, reliable and timeous information.
Open position : Financial Assistant
Location : Uitenhage
Salary : Market related
Type : 6 month contract
Job requirements :
• Minimum 3-year tertiary education in the finance field.
• Strong attention to detail and ability to work under pressure with high degree of accuracy.
• Working knowledge foreign exchange and impact on business.
• Good computer skills.
• Communicate in English.
• Need to have problem solving skills.
• At least 5 years' experience in a finance department
Duties :
• Processing Creditor's invoices local (inventory) and foreign
• Balancing inter-companies
• Month end Accruals
• Accounts payable reconciliations
• Ad hoc sundry payments
• Goods in transit
• Foreign payments and bank reconciliation (Absa)
• Filing vat returns
• GL reconciliations
• Updating exchange rates on a weekly basis
• Travel Expense Claims together with recon for individual employee accounts
Should you meet the above job requirements please email your CV to lisa.applications@kingrec.co.za
Please add "Financial Assistant" in the subject line of your email.
No reply after 2 weeks indicates that you have been unsuccessful.
---
315 people have viewed this job.
About King Recruitment Solutions
King Recruitment Solutions is a registered Recruitment / Temporary Employment Services (TES) Agency situated in Newton Park, Port Elizabeth. We operate as a family owned business which was established in 1994. King Recruitment Solutions has always concentrated on giving excellent service by providing an employment solution to businesses both large and small in Nelson Mandela Bay.
Our mission is to provide quality Temporary Employment Services to our valued clients, and to make sure that our service is always of the highest level. We also strive to conduct our business in such a way that enables our clients to operate at maximum capacity with the right labour force.
Our vision is to uplift the image of Temporary and Permanent Employment Services by providing our clients with a productive labour force, whilst providing employment for job seekers in Nelson Mandela Bay.
More Jobs at King Recruitment Solutions
Bookkeeper
Port Elizabeth
Job Type: Permanent
Posted 23 Sep 2020 | 57 Days left
Bookkeeper
Port Elizabeth
Job Type: Permanent
Posted 23 Sep 2020 | 26 Days left