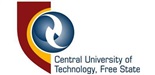 Salary:

R39 668.00 Per Month

Bonus: Optional 13th Cheque in November or Birthday month

Commision: N/A

Job Type: Permanent

Sectors: IT Technology Technical

Reference: 1366

Employment Equity Position
External Application
---
Vacancy Details
Employer: Central University of Technology, Free State
Main purpose of the job

To manage the constant improvement and changes to the Estates & Infrastructure (E&I) applications. To identify, recommend and implement applications that are used in the Estates & Infrastructure space. Including the management and completion of the change, defect, and enhancement requests from end users and other stakeholders. To provide end-user support for the

applications to E&I staff.

Main tasks

1. Develop & Implement Systems

2. System security management

3. Systems Operations Management
Nature of appointment

Permanent Support Services

Minimum salary scale

(Total Cost to Company)

R476 022 per annum

Note: CUT applies an internal parity model to determine remuneration that complies with the principle of "equal pay for work of equal value". Accordingly, the preferred candidate may expect an offer that is in line with their qualifications and years of similar experience. Please contact the Recruitment office for more information on the applicable salary scale.
---
Candidate Requirements
Minimum Qualification/ Knowledge and/or

Experience

· Relevant Diploma in IT or related field

· At least 4 years relevant experience of which at least 2 years should be in application support and 2 years in application development

· Strong knowledge of MSSQL

Desired Qualification, Knowledge and/or Experience

· Relevant Bachelors degree or higher in IT or related field

· 5 Years relevant experience in production application and system support

· Experience in MSSQL application development & reporting services; PL/SQL programming; ITS Integrator development experience

· Knowledge of higher education processes and systems

· Advanced knowledge of database systems

· Experience in Java server technologies will be an added advantage.

· Knowledge & experience with applications such as Archibus facility management software, MS Project server, Gallagher security software and building management systems
---
414 people have viewed this job.
More Jobs at Central University of Technology, Free State